Sales Lead Generation with 
Website Leads
Website Leads generates more qualified sales leads.
Website Leads goes beyond Google Analytics by providing information that will directly enhance your sales effort. Find out who is on your website, what they are interested in, and be alerted the very moment when they visit! Leverage your current website to ensure it is working as hard as you are.
Know who is visiting, when they visit, and what they viewed
Easy to install with no maintenance
Designed for B2B Sales
Email alerts provide information in real time
One of the highest ROI in a sales tool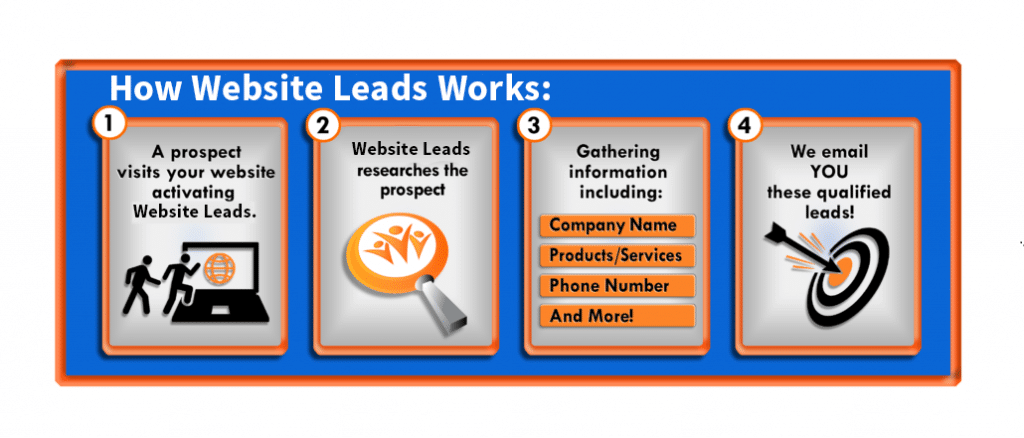 Generate More QUALIFIED SALES LEADS! 
Now you can find out what company your visitors are with, how they found you, and even the keywords that helped them discover your site! We provide research on your prospects using 12 different sources and then provide this information to you with a convenient email alert. This vital timely information can help your sales team generate more red-hot leads without creating extra work or requiring a tech department to operate it! Website Leads is not a replacement for Google Analytics, but a valuable enhancement designed to provide your sales team with more of the information that they need. Once installed, your sales team only needs to check emails. Website Leads can be easily integrated into your current email campaign strategy. Since it works on any device and with any email marketing tool you can simply set up then let it do the work. Generating qualified leads from your website has never been easier!
Only 2%of website visitors complete contact forms or pick up the phone. Find out who is visiting your site instantly!
Real time alerts are vital to sales and helps you connect with more visitors!
Website Leads works with all major devices. Using it is as simple as checking your email!